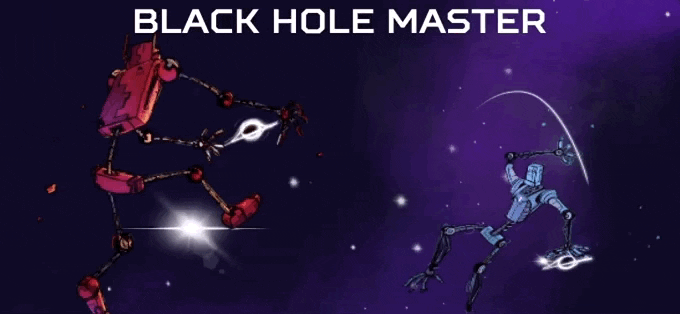 Black Hole Master
A downloadable game for Windows, macOS, Linux, and Android
This game is in 'beta' status. This means the game is in active development and can contain bugs. Features are not yet complete and will change between versions.

At the moment this game is two-player only. You need two game controllers and one friend to play this!

Black Hole Master is a simple, fast and difficult arcade game for two players. In a galaxy far away, an alien civilisation has mastered the control of stars and black holes. You are a Black Hole Master, a player trained for participating in the popular black hole battles. This app is free on all platforms, it has no ads and no in-app purchases.

Black Hole Master is a light-hearted remake of one of the first computer games, Pong. In this remake, each player now controls a black hole! The objective: to use the gravitational force of the black hole and a slingshot motion to fling approaching stars towards the other player.

The game is being developed by a group of scientists working in the LIGO Scientific Collaboration. We want to make free and fun apps related to our work. The LIGO project has built a completely new class of observatory that can detect gravitational waves. Gravitational waves are ripples in the fabric of space-time. They are produced by violent cosmic events, such as the collision of black holes.
Please send us your suggestions, comments and bug reports so that we can improve the game. You can use the comment section at the bottom of this page or contact us at laserlabs.org. Thanks a lot!

Release Notes:
Version 0.1.2, 03 August 2018
Adding new music, fixing a bug with wormholes
Version 0.1.1, 08 October 2016
Adding different background images for some menus
Version 0.1.0, 25 September 2016
First alpha release for testing in science events and fairs
Controls:
On Windows/OSX/Linux
Use two game controllers and follow the instruction on screen
Press ESC to exit the 'endless' mode
Press M to mute or un-mute the game
On Android/iOS
Touch control for the black holes and the user interface
Requirements:
two game controllers (tested with Xbox controllers)
Windows XP SP2+
Mac OS X 10.8+
Ubuntu 12.04+
a friend to play with (local two-player only)
Known Issues:

We cannot test or support the Linux version at the moment.
OSX

Extract the downloaded archive with the OSX archiver
Start the BlackHoleMaster.app file
Windows
Unzip the downloaded archive
Start BlackHoleMaster.exe
Linux
Unzip the downloaded archive with 'unzip'
Start BlackHoleMaster.x86 (for 32bit OS) or BlackHoleMaster.x86_64 (for 64bit OS)
We will publish this game on iOS and Android stores later, meanwhile you might want to try the apk file below for your Androind phone.